Although asking your first question on Sage might seem daunting, we have taken great care to simply the process so our users can ask for the information or advice they need with ease. Right at the top of our home page, you will find our "Ask a question" tab which will allow you to begin the process:

Picking a Category and Sub-Category
Once you have done this, you will be asked to sort your query into a category from an alphabetically ordered list we provide. This will help our community of experts – 'Sages' – better find your question so that they can help you faster. To choose a choose a category, just select it from our list and then hit the "Next" bottom located at the bottom right of the screen: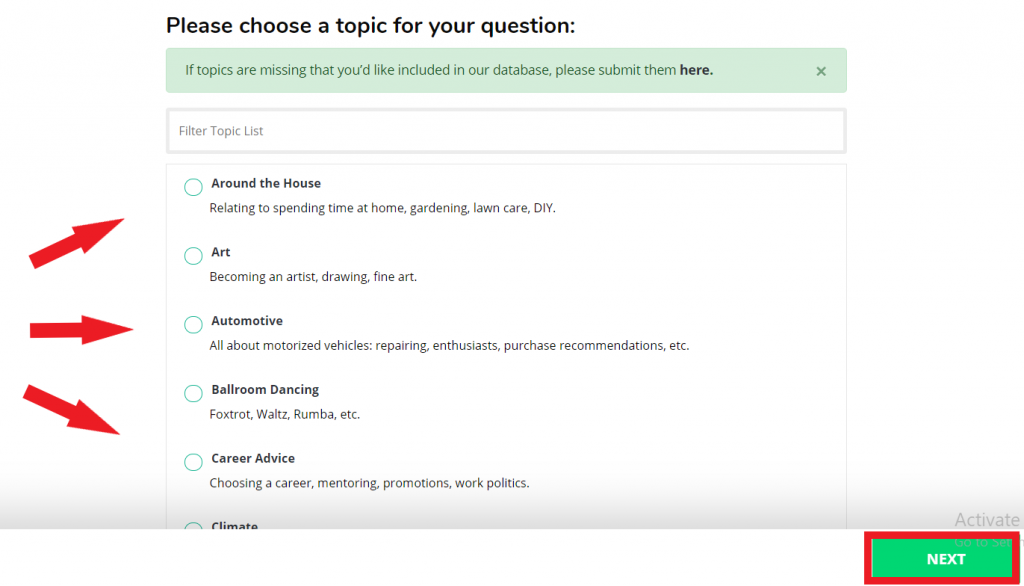 Because our Sages have expertise in a wide variety of fields, we similarly have an extensive list of categories. To find the category that best suits your question, it can be helpful if you filter the categories provided to narrow the scope of your search using our search bar located above the list of topics: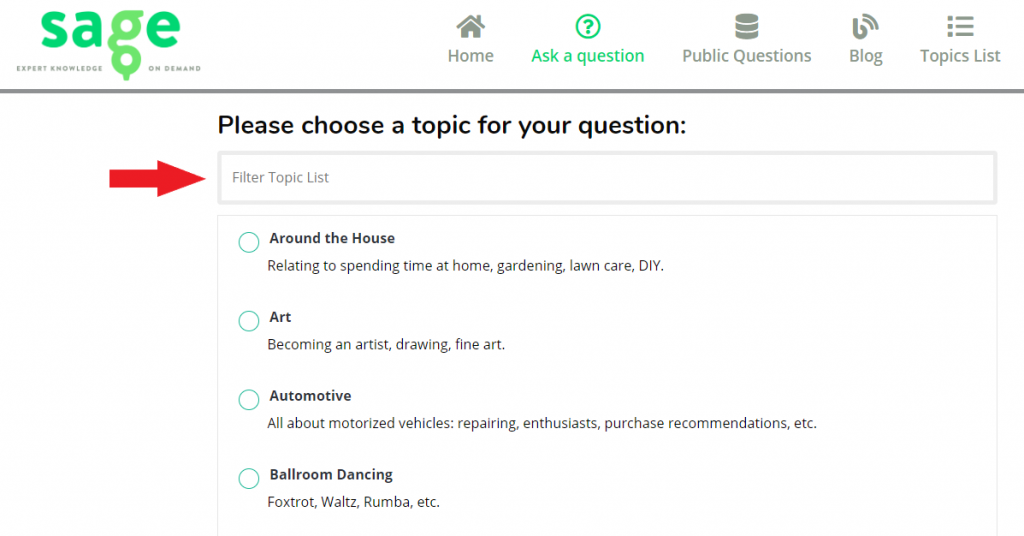 If you can't find a topic that matches, please submit requests for new topics using the submission form at the top of the page.
Once you have picked your best fitting category, you further narrow down the scope of your question by picking a sub-category which your question fits into. This process is exactly the same at picking a category. Just pick your sub-category and hit "Next".
Posing your Question
Now that you have sorted your question, it's time to ask it! The bare bones of your question will serve as its title. For example, if you were curious about asking questions on Sage, you might title your question "How do I ask a question on Sage?".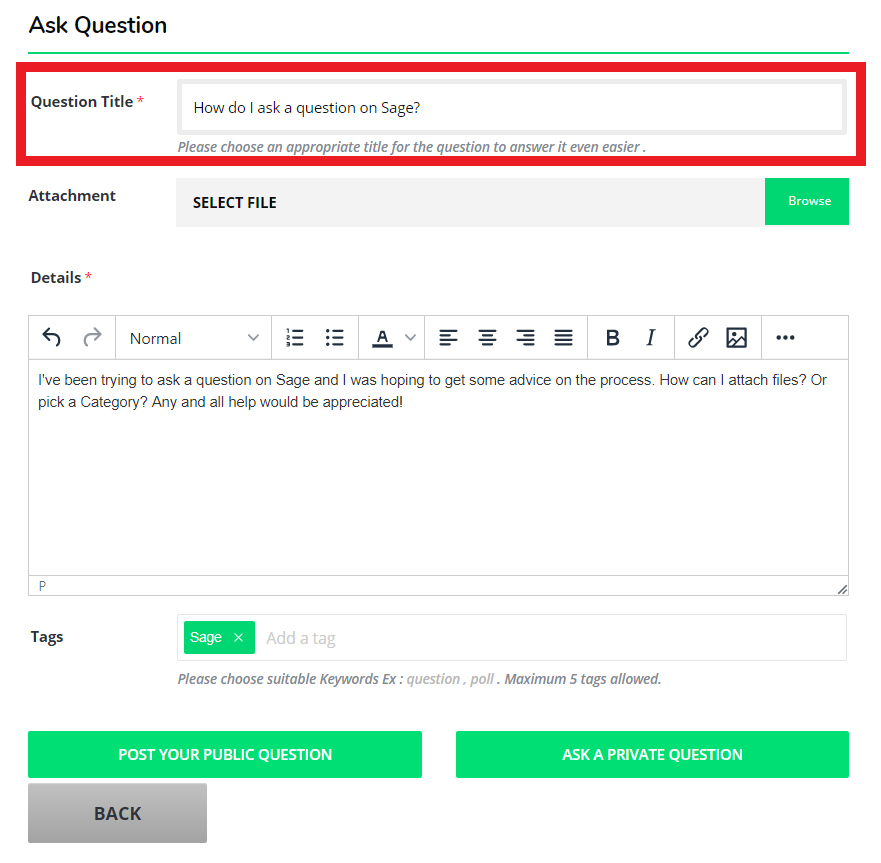 Next, since your question title alone might not be specific enough to describe the exact difficulties you are having or the exact nature of the situation you want help with, Sage has an area for you to fill in the details of your question: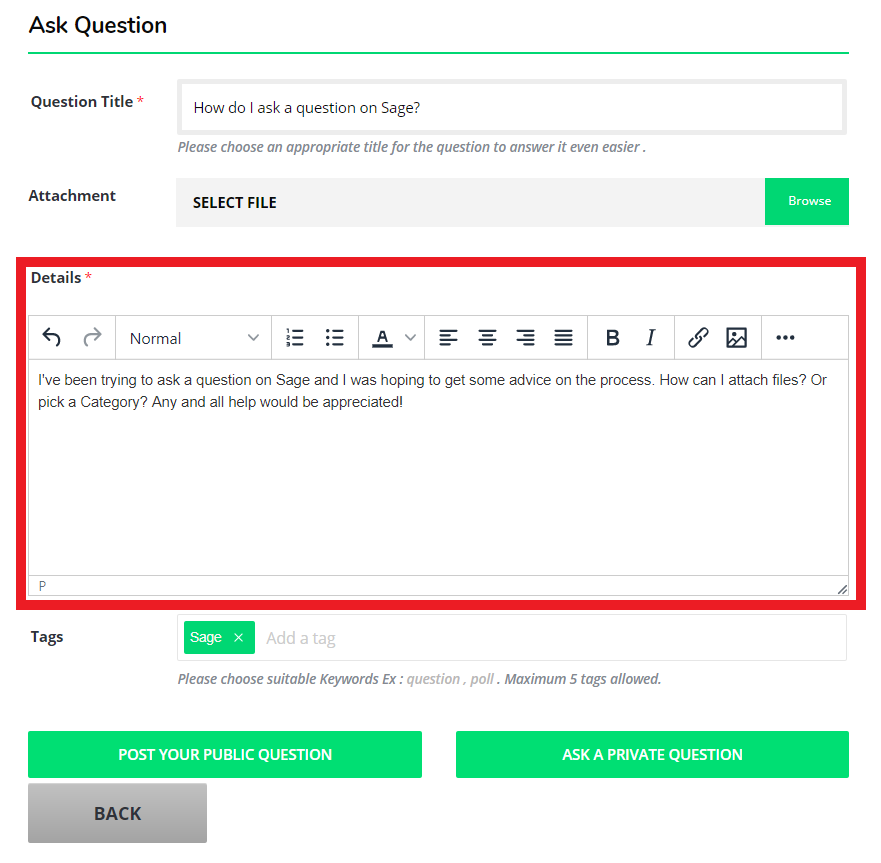 If there are files you want to attach to your question such as diagrams, photos, etc., directly under the Question Title section you will find a section allowing you to attach files. If you would like Sages to be able to find your question faster, you can add tags, short descriptive words or phrases to identify your question, in a section just beneath the Details section: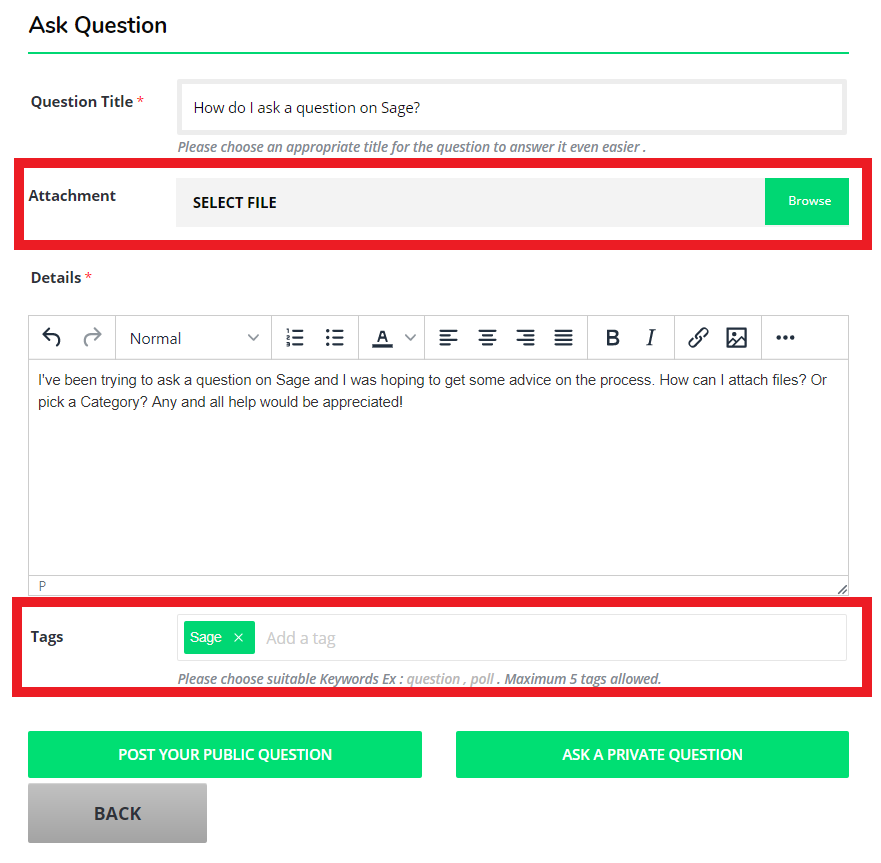 Do you want a fast private answer from an expert?
You have picked your category, posed your question, and you are almost done! All that is left is to choose whether to ask your question publicly, or to use Sage's unique feature which allows you to request an answer from a specific Sage.